Klanghelm
Klanghelm / Sonic Helmet
2008
material:
polyester resin, PU-foam, polystyrene, fabric
technique:
3x transducer, DVD-player, amplifier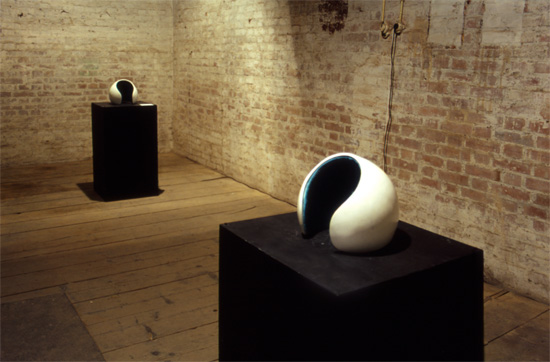 Kristallrauschen [2'22] by Satoshi Morita

Koerperuebung [1'49] by Heidrun Schramm

Sinus-Tablette [3'22] by Helmut Mittermaier

Study towards "Introjection" 1-2  [2'26] by Nicolas Wiese

Klang-Koerper [3'02] by Oliver Peters
Please listen to these tracks with headphones
all rights reserved by the authors
Our perspective in everyday life is based upon the position of our head. Particularly the 'eye level' and the 'ear level' are crucial in oder to render the position of the person in the room tangible. The auditory perception determines our sense of the depth and size of a space. According to our size and our position in a room, our spatial perception differs. Another aspect of the auditory perception is the conveyance of plasticity and materiality of the source of the sound and the structure of the room. Sound also evokes the tactile aspect of the source of the sound and the multi-sensorial perception complex the recipient.
While the sound is recorded its perspective is designed by means of the microphone as an 'extended ear' and while listening by means of the loudspeaker as 'mirrors of the ear'. The transducer which is built into the 'Sound Helmet' adds the tactile perception. All this makes sound tangible.
System Outline
Outlook
"Klangkapsel / Sonic Helmet" provides a new way of listning to sound – with unique auditory spatial perception and tactile perception through three audio channels. It's open for collaboration with sound artists, musicians and composers.